Learn More About Dawn's Sign Tech
Our mission statement is to provide businesses in the Merrimack Valley and surrounding areas with quality sign products and services that will increase their visibility, increase their sales and save them time and money in the process.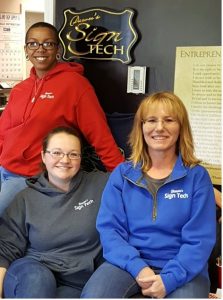 A business sign is the identity, image, and represents what your business is about. It is important to have an eye-catching sign for your clients and customers because it is the first thing they see before they walk into your business. It is also how they find you amidst the chaos of buildings, traffic, and other signs. We can also design your logo with you in mind, not the desires of an artist but with the view to how your customers will see and find you.
We are capable of installing everything we make. Our bucket trucks and cranes ensure nothing is too high or too heavy. We can install posts, brackets, and frames into brick, concrete, wood and drywall. We do seasonal swap outs at retail stores, install vinyl on trucks and windows. Whatever the imagination can come up with. We can install vinyl on vehicles and windows, put banners up on a building, install parking lot signs on posts and much more.
At Dawn's Sign Tech, we can take care of all your sign needs. We have extensive experience in repairing and recovering signs that have faded over the years. Like all things, signs have components that wear out consistently such as light bulbs, sockets, ballasts, and power supplies. We are able to strip and re-letter, recover any old sign giving it a fresh look.
"The town wants what?" Believe it or not, you can't just put up a sign by yourself without a permit from the town's government. Each city and town require permissions and fees for your business to put up a sign. Different cities and towns have their own regulations, laws, and applications for business signs. At Dawn's Sign Tech, we can help you obtain a permit for your sign from start to finish.
Hear What Our Clients Say
[single_testimonial id="206″]
[single_testimonial id=202]
[single_testimonial id=192]
[single_testimonial id="193″]
[single_testimonial id=187]